We got featured! Check out our mention on Triple Max Tons!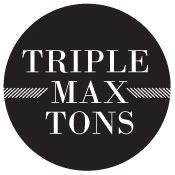 It's always nice for your hard work to get recognized, right?! So you can imagine my excitement, when Adrian shared the news that we had been mentioned in a post on Triple Max Tons! Adrian contacted Kirsten Stoddard today, and she was so impressed with his email pitch, that she featured us on her blog.
Thanks to my brilliant hubby, Annie Housewife is one step closer to being a household (..get it? lol) name! I'm happy our efforts are paying off, and it's good to be recognized for it! Thanks to Kirsten for taking the time to check out our store, and then write about it, and obviously a huge THANK YOU to the hubby of the year...:-)
Go check out the post, it's great and informative too! Also be sure to follow Kirsten's blog, it's one of our favorites!